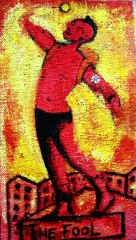 Tarots projects
The Tarot cards always fascinated me, they also played a meaningful role in some periods of my life.
I wanted to try to create my own tarots many moons ago, as many artists had done before me.
The 22 Major Arcana have always been the ones that interested me the most.
In 2009,  I made 9 monumental paintings, commissioned by the Dutch director Paul Kloote, as decor of the musical show "The Good Vibrations".
And it's then, that I thought the chance had come.
So, I started to paint "the devil" and "the hanged man", 2.10 meters  by 60 centimeters…
Somewhere, I knew that was only the beginning, then the card "the lovers" came, and after I painted all of them, almost all the same size, like giants cards, by trying to be connected with every single card,  by doing a personal research, tapping into a varied sources (not least Alexander Jodorowsky),  mostly in a state of trance..
My references are the Rider Waite ones, because those are the ones that I first met on my path and because the drawing style is so beautiful, besides they were drawn by a female painter (Pamela Colman Smith) .….
Some of mine are completely different from the originals, some are almost the same, and others are revamped.
I exhibited them in October, at my home atelier for the 10 days of art in  Bergen, as a work in progress; after I changed some of them completely and I think I'm not yet done, but it was a wonderful journey!!..
Niki de Saint Phalle was also my inspiration; she made a wonderful artwork in Italy (Tarot garden) on the Major Arcana…
I made a real journey through symbols, dreams, memories and visions.  I tried to communicate this through the paintings, I must admit that they became very powerful and strong, looking at them induce me to a state of trance……
Behind the tarot are hidden several traditions, symbols and allusions; the psychological aspect of them, that interested me the most, as well as the exoteric and mysterious ones.
About the future reading it, that doesn't really interest me, I think our future is right inside our bodies and of course we can always change it….
The tarot project is still in progress, for the moment I met another tarot project, where my creations encountered others artistic tarot visions and tarot sounds in Berlin, in 2011.
So let the tarot story to be continued…..and stay tuned for more news.
Sabrina Tacci